Callum Hudson-Odoi
08:16 GMT 13/03/2020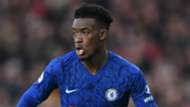 Chelsea winger Callum Hudson-Odoi has revealed that he has entered into a week-long self-isolation period after recovering from symptoms of coronavirus.
The 19-year-old sent a message to supporters via social media confirming the news, after being officially diagnosed with COVID-19 on Thursday.
"Hi guys, as you may be aware I had the virus for the last couple of days, which I've recovered from," Hudson-Odoi began.
"I'm following the health guidelines and self-isolating for the week. I hope to see everybody soon and hopefully be back on the pitch very soon. Take care."
More to follow.