Super League
07:13 GMT 11/03/2020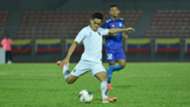 Watch all the highlights from the Tuesday and Wednesday round of action of the MatchDay 3 of the 2020 Malaysia Super League.
Matches are coming thick and fast with the Round 3 of the Super League already in place and ploughing on despite the coronovirus issue looming in the background. Two matches played on Tuesday with four more to go Wednesday, here's the all the highlights in one place for your watching pleasure.
PDRM 0-1 Johor Darul Ta'zim
For the second match running, it was a hard-fought success for the 6-time Super League champions but at the end of the day, they are still top of the table with maximum points.
Two defeats in their opening two matches sent the alarm bells ringing for Pahang but worry is tempered temporarily after they edged out this Super League newcomers.